RB4 - Rumors and Facts
Check the thread for sales....
Jul 19 2016 - Rock Band Rivals Details
Rock Band Rivals — Coming October 2016
Rockudrama
First playable rock documentary

Hilarious, lots of live video and narration, some of which is reactive to how your band performs

A bunch of new venues

New gameplay challenges (Earn fame, a new currency within Rockudrama!)

Rivals Mode
Join a Crew with up to 10 people to compete in ongoing challenges

Asynchronous online weekly challenges and leaderboards (Xbox Gold and PS+ not required)

Skilled players contribute top scores, more casual players can still contribute to their Crews in other ways

More to come next month

New, sexy UI
Coming to all RB4 players

Music Library Enhancements
Announced at PAX East

Also coming to all RB4 players

Rating options of 1-5

New sorting/filtering options

Hardware Bundles
Contain RB4 disc and a download code for RB-Rivals. Download code will work with any version of RB4 Disc.

Achievements and Trophies
Rivals has its own goals, details to come.

"But, wait" you exclaim, "where is online play?" Well, that is scheduled for December for anyone who has or will purchase Rivals. RB4 alone will not allow you to get online play, you must purchase rivals to be able to download the December update with online play.
More info from
http://www.rockbandaide.com/22236/rock-band-rivals-details-modes-songs-koolness/
Rockudrama with the awesome Kool Terry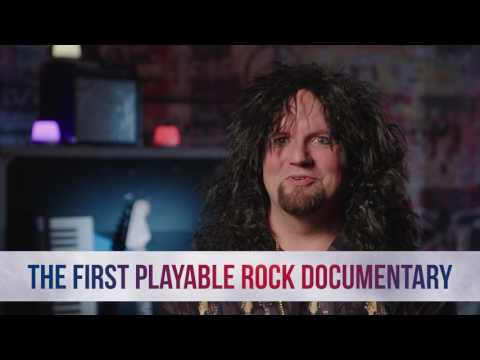 Rivals itself will NOT have songs. The only way to get songs with Rivals is if you get the pre-order Rivals.
Non-song preorder bonuses:
Buying Rivals in standalone disc/digital gets you a shirt with HAMBURGERS on it. People who buy the $30 digital version(already owning a previous disc) will also get a Sword Guitar. That should help add some non-standard options to your wardrobe.
Guitar
Pre-order the Fender Jaguar guitar bundle from GameStop and get an exclusive, smooth
Charcoal Gray
Fender Jaguar guitar controller instead of the normal ultra-marine blue.
A stand alone RED guitar is being make available on
Amazon.com
Mic
All guitar bundles get a mail-in offer for a free mic (Limited time offer, while supplies last, etc.)
Mics have been updated by PDP
Drums
Drums look the same, but the pads/brain/kick pedal all have updated internals -
HMXJosh
Ion/Midi Pro Adapter
The new adapter is NOT going to support legacy wired guitars or RB1 Drums, just the Ions and the Midi-Pro Adapter -
HMXJosh on Reddit
Also, according to the PDP webpage, it supports the Stage Kit:
http://pdp.com/en/rock-bandtm-wired-legacy-adapter
- REMOVED from description. - According to HMXJosh, that is because it is not supported in the RB4 software, yet. "AMA. The wired adapter allows the Stage Kit to talk to the Xbox One. It still needs to be supported on the software side. That said, we WILL be supporting it on the software side, we're just not entirely sure when (Unlikely to be Rivals launch, but we will add it into a later patch/update). Also, to those who have asked, you will need one Wired Legacy Adapter for each USB peripheral you want to use. In other words, if you want to use your Ions and a Stage kit, you'll need two adapters."
Legacy Adapter
PDP is not making a new Legacy Adapter - the Mad Catz one is still available and will continued to be supported by the game. There is no word of a Sept 6 cut-off date on the Legacy Adapter, but Hardware is different than bundles that include software... Better be safe than sorry since they are only about $15 now -
HMXJosh
Summary:
Jul 12 2016 - Jaguars can activate Overdrive via D-pad
https://www.reddit.com/r/Rockband/comments/4shgif/psa_jaguars_can_activate_overdrive_from_the_dpad/
The dev team has done some code magic, and left on the D-Pad will activate Overdrive when the Rivals patch hits in the fall!
the Jaguar doesn't have a 5-way switch [so you can't switch between guitar effects]
There are no accessory ports on this guitar. To activate Overdrive you can either tilt or hit left on the D-Pad [no "stomp box" for overdrive activation]
June 14 2016 - Rivals Mode and PDP Hardware, re-release
MORE INFO and Discuss here:
http://forums.harmonixmusic.com/discussion/263868/rock-band-rivals-announced-plus-fender-jaguar-guitar-controller-revealed
Today, we're thrilled to announce Rock Band™ Rivals, a new expansion pack for Rock Band 4 that will be available this fall. - $29.99 but no details
PDP:
a smooth, ultra-marine blue Fender® Jaguar Guitar Controller from PDP.
...The Fender Jaguar Guitar Controller comes with all the basics you'd expect: upper frets for classic gameplay, and solo frets for the daring shredders out there. It's got a highly sensitive tilt sensor for perfect Overdrive deployment, and an improved strum bar for increased precision at high speeds. The auto-calibration light sensor allows less ambient light than previous guitars, which means auto-calibrating is more accurate and will get you playing faster. Aside from all of the classic features this new guitar will come with, it's got one that really seals the deal: it's foldable. That's right, you read that correctly. Our newest Rock Band peripheral is a
foldable
guitar.
...more Rock Band peripheral accessories on the way this year as well. In addition to the sleek new Fender Jaguar Guitar Controller, PDP is in the process of creating the Rock Band™ Fender® Jaguar Guitar Charger: a charging dock designed exclusively for the Fender Jaguar Guitar Controller that includes a rechargeable battery back
...Officially licensed by Microsoft, the Rock Band™ 4 Wired Legacy Adapter for Xbox One is exclusively compatible with Rock Band 4 and these specific legacy controllers:
Rock Band 3 Midi PRO-Adapter for Xbox 360
ION Drum Rocker for Xbox 360
Hardware Bundles:
* Rock Band™ Rivals Wireless Jaguar Bundle - Rock Band 4 software, Rock Band Rivals expansion, Fender Jaguar guitar controller - $89.99 USD.
* Rock Band™ Rivals Band Kit - Rock Band 4 software, Rock Band Rivals expansion pack, one Fender Jaguar guitar controller, and one Rock Band 4 drum kit - $199.99 USD
* Rock Band™ 4 Wired Legacy Adapter for Xbox One will be available for purchase separate
* Stand Alone Guitar will be $69.99... per HMX in discussion thread.
* Digital - Rock Band Rivals expansion pack - $29.99 USD.