October 24th Roadmap
kal_el_0724
Opening Act
If you want to watch the Roadmap video, click here
:
Official Twitch Stream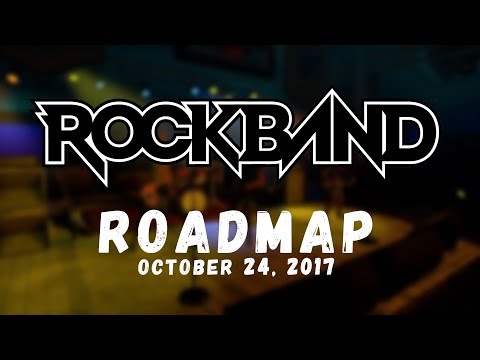 Rivals Improvements
:
Crews can be made public or private for easier accessibility to new members. (November)
UI Improvements
:
Harmonies now have different colors and better appearance to signify unison parts. (November)
Arrows are shaped/colored differently and there's a more clear trim of whatever color tube you're going through (plus, when they're all doing the same line, they slot together into a cool feathered arrow-looking thing).
-HMXOwl
Online Quickplay Improvements
:
Matchmaking is being looked at in sort of a lobby system way. This may change but whatever comes will help get players into online sessions much quicker than just finding your own friends to play with. (Early 2018)
Season 3 starts October 26th
:
Full on suit jackets will be rewards for season 3.
Season 3 Spotlight Pass goes on sale October 26th. 8 weeks for 8 total songs at $13.49
Seasons going forward will offer complimentary outfit items. I.e. this season is jackets, next season might be matching pants or helmets etc.
Season 3 is based on decades of Rock and the DLC will match each week. However, one week is unaccounted for...
Early November DLC is as follows
:
Foghat - Slow Ride
Joan Jett & The Blackhearts - Bad Reputation (Rewind)
Ramones - I Wanna Be Sedated (Rewind)
Violent Femmes - Blister in the Sun
Wild Cherry - Play That Funky Music
DLC Entitlement updates
:
On-going issues still rest in the hands of the third parties (Microsoft, Sony). Harmonix is working on it every day. Trust me, Daniel got a little flustered.
Score Duel
:
Don't want to draw from the well of the past, but also would like to bring forward great ideas. - Paraphrasing from Daniel Sussman
However, Harmonix is looking at a head to head competitive mode in 2018.
Character Creator
:
Harmonix did the best they could given the resources they had/have in regards to the current feature. There is a development initiative to continue to take a look if not revamp this feature in the future. There is a financial side to this that may end up restricting it until an idea sticks. In other words, don't count it as part of the road map but also don't think it's dead.
Stage Kit Support
:
Don't...keep...your...hopes...up. - Daniel Sussman
Overall
:
Absolutely fantastic stream and the future of Rock Band is looking very awesome. There were some things teased, especially in regards to future (November, December) DLC. Rock Band is just as supported today as it was when it launched. Don't expect this game to go anywhere anytime soon.
Let's Rock \m/
P.S. Also, Loot Boxes will not be coming to the game
ever
anytime soon.