Amplitude thoughts?
supvic
Unsigned
For those who played the original, what do you guys think of the remake? I played the demo and was quite disappointed..
It's lost it's mojo.. there's no funky voiceover dude ("autoblaster!"), no Freqs (your character who bobs their head to the beat and mimics your every button press) and the entire look and feel of the game and level design is sterile and lifeless, it's completely devoid of personality and feels like I'm playing a barebones game. Aside from the resolution and frame rate, PS2's Amplitude looks and feels decades ahead of the PS4's version.. yet we have the opposite.
I've only played the demo songs but the soundtrack is terrible! Freezepop is ok, but the others are so bland and lifeless. The old POD, No Doubt, Slipknot, Run DMC, David Bowie, Papa Roach, Blink 182 and Fearfactory songs were SO much better. If we could at least get our Rock Band Blitz DLC working in this game then maybe I'd reconsider.
As for the gameplay it's hard to judge the game with 3 songs but my biggest gripe is the R2 trigger, it's much harder to mash a trigger on expert compared to the old PS2 R2 button. I tried L1/R2/O but it's hard to get my head around it, so what are you guys doing instead?
I would've been a LOT happier with an Amplitude remaster with new DLC instead. Sony is releasing remastered PS2 games on the PS4 now, so why not give us Amplitude instead? There's no need to add or change anything other than create new songs because the old game was literally perfect in every way. If I knew this new Amplitude was going to be this bad I would've asked for a PS2 Ampltidue remaster instead.
I mean just look at this ****, it's beautiful!! If only the PS4 ver looked half as good as this..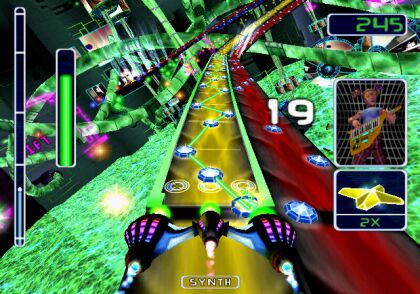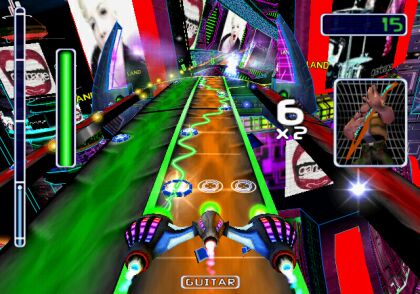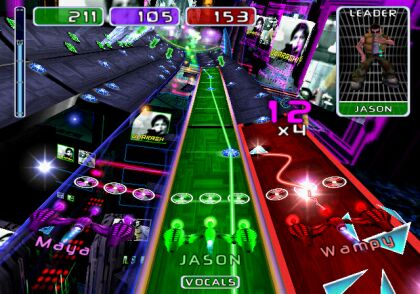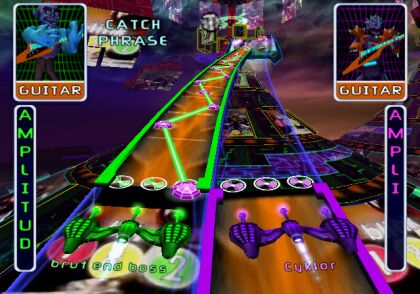 can't forget those funky head-boppin' Freq dudes: